Don't Stress the Mess...
Let us Give you Rest!
Don't stress the mess.
Let us give you rest.

Our cleaning company has been providing high quality cleaning services for over 10 years and we have built a reputation for providing reliable services at competitive prices.
We use environmentally friendly cleaning products that is better for the environment and safe for your health. We also use microfiber dusting cloths. Our goal is to provide top quality services at the best possible price. Our cleaning professionals show up on time with the right supplies and get right to work.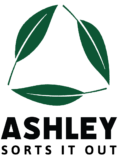 The leafs on our logo represents the recycling process that we go through to ensure that the items that you no longer need end up where they belong. Any small act leads to helping the environment.
­√  Alexandria 
­√  Lancaster 
­√  Green Valley 
­√  Martintown 
­√  Cornwall
­√  St. Andrews West
­√  Summerstown
­√  Williamstown
"Ashley's team has been taking care of our office cleaning for a few years now. We have always been pleased with the level of service and reliability. The cleaning is thorough and consistent. We would not hesitate to recommend them to you."
"We have been using Ashley Sorts It Out since 2021, we have had nothing but amazing service. The professionalism and quality is impeccable. Their rates are very competitive. I would recommend them for any job big or small."
"We have been using Ashley Sorts It Out since 2013 and when a second office was opened in 2015, did not hesitate to give them the contract. We are very pleased with their services. Professional, friendly, reliable, very accommodating and accessible."